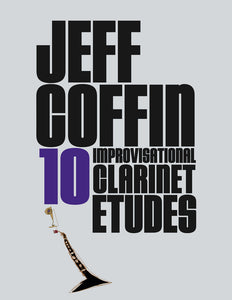 10 Improvisational Clarinet Etudes by Jeff Coffin (Digital e-book Format)
Originally written with flute players in mind, 10 IMPROVISATIONAL CLARINET ETUDES actually works great for clarinet too! These etudes cover a wide variety of standard jazz material and are recommended for classical as well as jazz players and woodwind doublers.

Because of the wide range of the clarinet, the book contains all 10 etudes in two different registers! It's like getting two books in one!!

The lower register is great for learning the low end of the clarinet and the high register is more traditional for soloing. Both registers are challenging and have their merits of course. Most everything has been transposed up from the lower octave with the exception of any notes above the high G as we think it's best not to tempt fate. : )

Streaming MP3s and free downloads are included so you can listen to and emulate the style, articulation, and feel of the etudes. The free streaming (and downloadable) clarinet MP3's are played by one of the great clarinetists on the planet, James Zimmermann!

"Jeff has put together a fun collection of etudes that'll stretch your ear and help you understand the structure of a well-improvised solo. You'll explore a wide range of styles and you'll emerge with more confidence in your own abilities. And, you'll be whistling the tunes for weeks!"
James Zimmermann - Principal Clarinetist / Nashville Symphony (2008-2020)