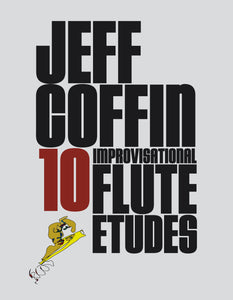 10 Improvisational Flute Etudes by Jeff Coffin (Digital e-book Format)
10 Improvisational Flute Etudes written and performed by 3x Grammy winning saxophonist/flautist Jeff Coffin (Dave Matthews Band/Bela Fleck & the Flecktones) over the changes of 10 jazz standards. This is a great book for any flute player who wants to learn more about jazz improvisation, jazz articulation, voice leading, and swing feel. Ideal for all classical or jazz flute players and saxophone doublers.
Streaming MP3s and free MP3 downloads are available at www.jeffcoffin.com/flute
TESTIMONIALS:
These flute etudes are going to be an amazing tool for my flute students. They are complex enough to keep our brains very engaged, and simple enough that classical players like us will not become overwhelmed by the harmonic language of jazz. I am excited to integrate them into my curriculum!
Molly Alicia Barth - Associate Professor of Flute, Blair School of Music / Vanderbilt University
As a classically-trained flutist, these etudes inspire me to play/learn jazz! The imaginative and smooth solos fall nicely into the fingers, so learning vocabulary feels very organic. Jeff Coffin, a world-class educator, saxophonist, and flutist in his own right, opens a new window into his generous craft with this set of etudes. His audio tracks show the nuance of jazz phrasing that goes well beyond notation. Fantastic resource. Great job, JC!!
Dr. Daniel Pardo - Assistant Professor of Flute, Prairie View A&M University / Yamaha Performing Artist and Clinician
Jeff Coffin has made a valuable contribution to flute pedagogy with his book of etudes. It is valuable on many levels and gives the player a good insight into basic jazz harmony. Enjoy!
Lew Tabackin - Jazz Legend / Multiple DownBeat Critics Poll Winner (Flute) / Multi-Award winning Jazz Flutist & Tenor Saxophonist
As usual Jeff Coffin - AKA the sax-student-whisperer - hits the high E# (#anomaly) for those of us who double on the instrument, but also for the serious classical flautist who has eyes to venture into the soul a bit more. These etudes/exercises give you the ramp on to the improvisor's freeway with less fear.
Kirk Whalum - Grammy Winning Saxophonist/Flautist