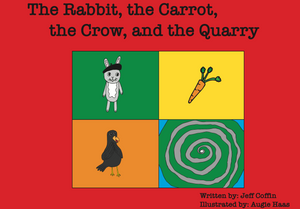 THE RABBIT, THE CARROT, THE CROW, AND THE QUARRY [SIGNED COPY]
*Order before December 2nd to guarantee delivery in time for the holidays*
**A portion of every sale will be donated to the Children's Literacy Initiative! https://cli.org/

Check out the new children's book, THE RABBIT, THE CARROT, THE CROW, AND THE QUARRY, written by Dave Matthews Band saxophonist Jeff Coffin with illustrations by NYC trumpeter Augie Haas!!
(Recommended for ages 4-9)
A sweet bedtime story about the fun adventures of a bunny named Davey (His fur was quite wavy...) and his new found friend, the Crow. This is Jeff & Augie's first children's story and they know you'll enjoy reading it out loud with your littles!!
A long time ago, in a time far from today, There lived a young bunny who wore a beret. His first name was Davey, His fur was quite wavy,
And he loved to go outside and play.
His all-time favorite playtime was to hop and to run,
And he loved to eat carrots, he relished them, each one.
This day, as he hopped and he bopped,
His carrot, he suddenly dropped
Into a hole that was as big as the sun.