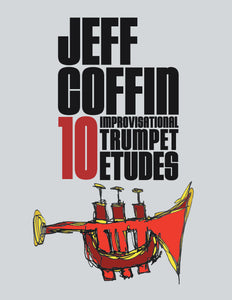 10 Improvisational Trumpet Etudes by Jeff Coffin (Digital e-book format)
Originally written with flute players in mind, 10 IMPROVISATIONAL TRUMPET ETUDES actually works great for trumpet too!
These etudes cover a wide variety of standard jazz material and are recommended for jazz as well as classical players. These etudes are performed by some of the finest trumpet players on the globe…Randy Brecker, Sean Jones, Jose Sibaja, Bill Fanning, & Augie Hass!
Streaming MP3s are available at https://www.jeffcoffin.com/trumpet
 

so you can listen to and emulate the style, articulation, and feel of the etudes.
In the places where you see notes above/below each other, that is because of certain range concerns. Play what part works best for you but remember to fully use your air support to play in all registers.
These etudes were originally played & transcribed on flute by saxophonist/woodwinds virtuoso Jeff Coffin (Dave Matthews Band/Bela Fleck & the Flecktones) and demonstrate his experience, expertise, and passion for music, improvisation, & music education.